How to create a survey
Before we get started, make sure you have a co:census account. If you don't have an account, get started by scheduling a demo of our product here. If you have a co:census account, you're ready to go!
Login to your co:census account. Upon login, you should see your home dashboard page.

Click on the New Project card to create a new project.

After clicking on the New project card, there will be a popup window.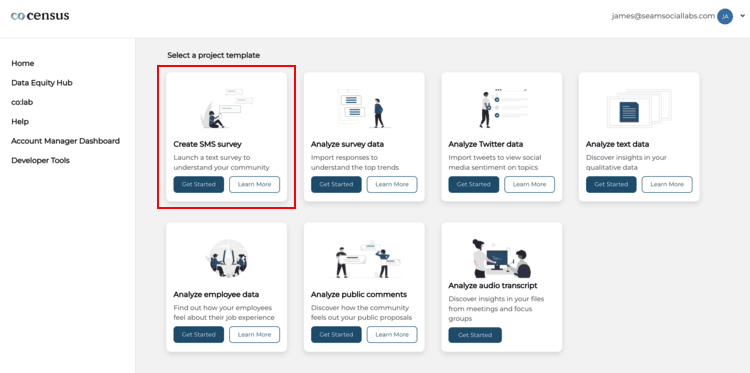 Fill out the Project name and Description.

Select Create survey.

Click Continue.

You should be taken to a form titled Launch a new survey.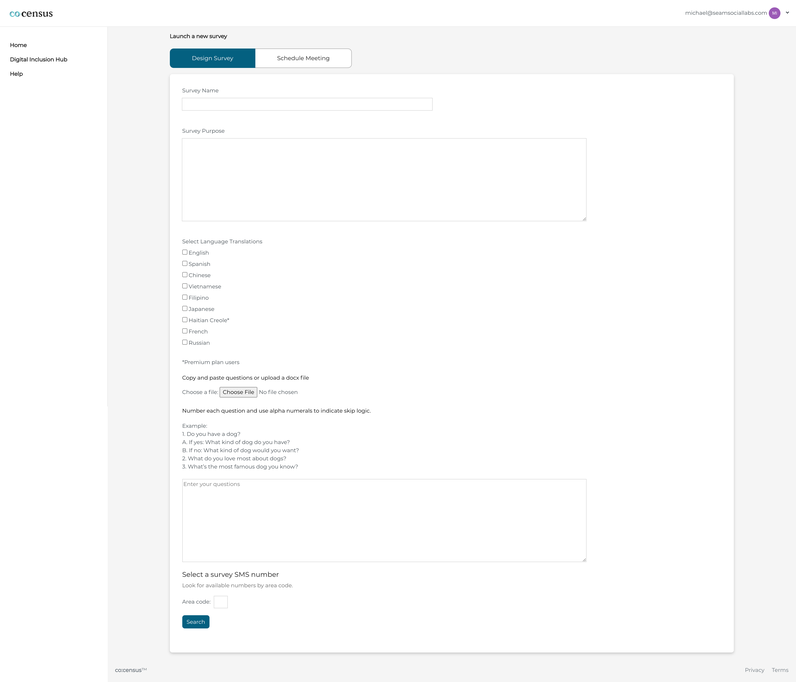 Fill out your survey name and purpose.

Check the languages your survey will be translated in. Click Next.

Enter your survey questions. You may either type or copy and paste your questions into the text box. Make sure to number your questions and use alpha numerals to indicate skip logic.

Upload images for your survey by clicking Choose File. Make sure to rename the images to correspond to the survey questions. For instance, if you have an image "busy_street.png" that should appear with question 3, rename the image to "3.png".
Click Submit. Important: This will not launch your survey. Your account manager will review and codesign your survey with you before you are able to launch.

You will now select the SMS number that respondents will text to answer your survey. To select your survey SMS number, enter an area code. We recommend using an area code that is familiar to your survey respondents.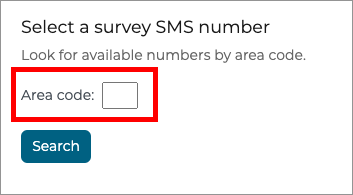 Click Search. A list of available numbers with your area code should appear. Select a number from the list. A popup asking you to confirm this selection will appear. Click OK to continue.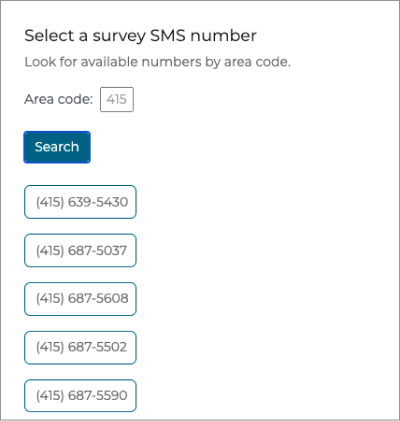 You will now be prompted to schedule a Survey Design Meeting with your account manager. During this meeting, they will guide you through recommended edits that will help your survey better serve its purpose.
After this meeting, you have 48 hours to make any final edits to your survey. Our team will then translate your survey into the requested languages and build the survey's SMS chatbot. Once the chatbot is built, we'll send it to you for a final review. This step takes about 2 or 4 weeks, depending on whether you're launching your first survey.

Once you approve the chatbot, we'll launch your survey! Send it out to your community to receive responses.